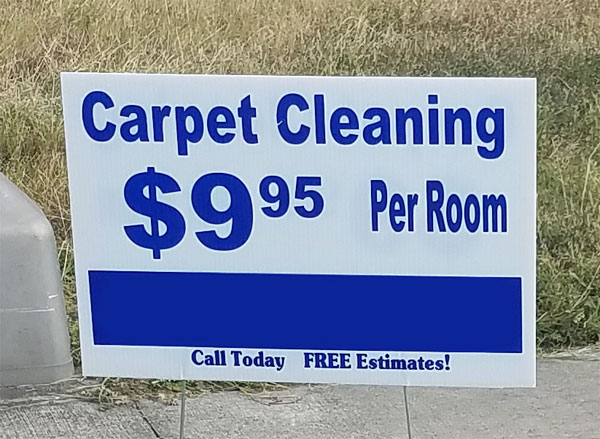 I'm sure you've seen these ultra affordable carpet cleaning signs all over Tampa FL and surrounding areas. Don't be fooled by this fast sell yard signs that promise amazing deals. Deals like: Whole house cleaning $99, or Five rooms for $79.99. These prices for carpet cleaning are great. Unfortunately the cleanings for that price aren't. This might sound cheap coming form a local Tampa carpet cleaner but I have cleaned a lot of carpets after these affordable carpet cleaners and they don't offer much for the price.
Most affordable carpet cleanings are really just bait and switch sales. The cleaner will advertise an amazing price but when they show up there are several hidden fees or add ons that raise the price quickly. So what starts out as a $9.95 per room cleaning ends up being around $50.00 per room once the onsite quote is given. These carpet cleaners are betting on the fact that you've taken to time out of your day to prepare for the cleaning and don't want to re-schedule to get a better deal.
Here are some of those added costs and fees.
Pre-vacuuming
Pre-sprays
Trip fees
Disposal fees
Post grooming
Spot cleaning
All of these little things start to add up and can end up costing you more then some of the better known carpet cleaners. Don't be tempted by these affordable carpet cleaning pitches. They just don't hold up when they get in your home.
For affordable carpet cleaning in Tampa FL call Chem-Dry of Tampa.