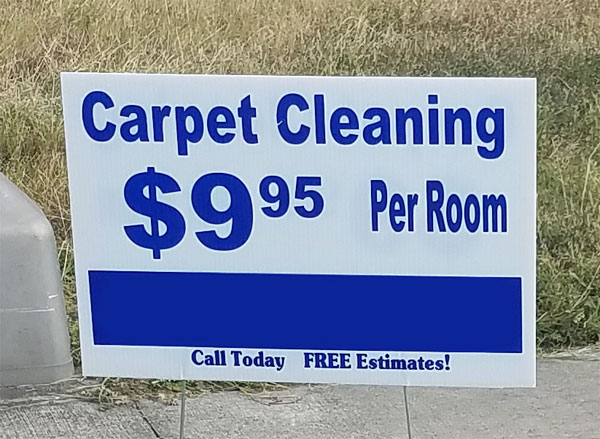 Everybody has a budget and a to do list that don't always match up. So, we pinch every penny we can and get things done. Some times you can pinch pennies on the wrong thing and end up costing yourself more money. At Chem-Dry of Tampa FL we offer affordable carpet cleaning services that maximizes your carpet cleaning while keeping your budget in mind.
The picture above is of a sign I saw in the middle of a highway in Tampa FL and I couldn't help but smile. This sign is not advertising affordable carpet cleaning, it's advertising cheap carpet cleaning and there is a major difference between the two.
Cheap carpet cleaning is a no frills steam cleaning that is done extremely fast without focusing on the out come of job. Affordable carpet cleaning is done at a reasonable price with a focus on customer satisfaction. Chem-Dry of Tampa's affordable carpet cleaning runs $40.00 a room and includes all the basic components of a standard carpet cleaning. There is no need to pay extra for things like pre-sprays or spot removal, its included in the basic price.
We want to you to get an exceptional affordable carpet cleaning that's why we offer a satisfaction guarantee. We stand behind every job we do so you get exactly what your looking for.
For affordable carpet cleaning in Tampa FL call Chem-Dry of Tampa.