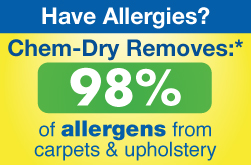 Are you looking for asthma friendly carpet in Tampa FL? Here's some good news. If your carpet was purchased in the last 10 years it's already asthma friendly carpet. Carpet has the least amount of VOCs of any floor covering for your home, Including tile and grouted surfaces. Tile and grout are actually VOC free but the adhesives that hold them to the floor are loaded with VOCs. Carpet does have VOCs but has a very low emission rate.
What really makes carpet asthma friendly is that it holds allergens down in your carpet and keeps them out of your breathing zone. Carpet is a passive filter in your home. It holds over 50% of the allergens in the carpet so you don't breathe them in. Think about it for a minute. If you have allergies why put in tile or wood floors that do nothing to keep allergens out of your breathing zone. So almost all carpet is asthma friendly carpet. Studies have shown that people with asthma have more asthma related issues after carpet has been removed from their home.
There is one big thing to keep in mind. If you have allergies or asthma its best to vacuum frequently and have your carpet professionally cleaned every 3 months. I recommend a green certified carpet cleaner like Chem-Dry of Tampa FL. They have all the right solutions for people who have allergies or asthma related issues. There is no need to remove the carpet you already have in place. You just need to know the facts on how to best care for your carpet to improve you indoor air quality. call Chem-Dry of Tampa for a free in home air quality inspection.
For asthma friendly carpet care in Tampa FL call Chem-Dry of Tampa.