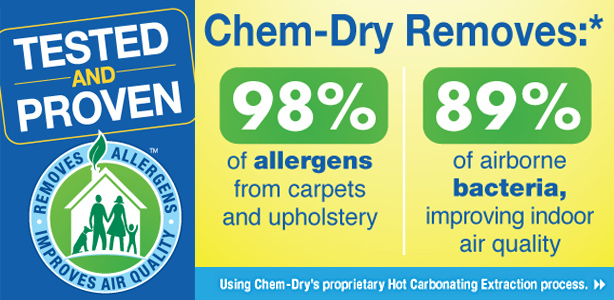 Chem-Dry of Tampa is one of the best carpet cleaning companies in Tampa FL. Chem-Dry has been cleaning carpets for over 40 years and has a solid reputation as a powerful carpet cleaning service with incredibly fast dry times. Chem-Dry of Tampa services both Hillsborough and Pasco counties with a wide range of cleaning options. We specialize in floor care maintenance and upholstery cleaning. Whether you have carpet, tile, or wood floors we have the best cleaning service for you.
Chem-Dry's unique cleaning system provides you a great cleaning experience with fast dry times and no dirt-attracting residues left behind. With our powerful, safe, non-toxic cleaning solution, called The Natural, we clean with the health of your home in mind. Our customers notice the chem-Dry difference right away, odor-free cleaning that leaves your carpet soft and looking great.
We don't shy away from tough carpet cleaning jobs. Being one of the best carpet cleaning companies in Tampa FL means taking on jobs other cleaning companies walk away from. We handle heavy staining and traffic lane cleaning along with removing pet urine stains in carpet and upholstery. Chem-Dry of Tampa specializes in taking on the jobs other companies can't.
Chem-Dry's goal is to make your home a healthier place to live. Allergen sufferers turn to our carpet and upholstery cleaning services to remove 98% of the allergens in their home. We can even improve the air quality of their home by adding a sanitizer during the cleaning process, removing 89% of airborne bacteria.
For the best carpet cleaning company in Tampa FL call Chem-Dry of Tampa.