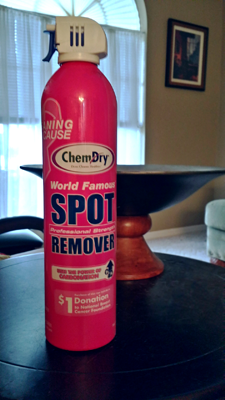 As a professional carpet cleaner in Tampa FL I get asked about carpet spots removers for quick clean ups between professional cleanings. I tell people all the time that the best thing you can use to clean your carpet right after a spill is carbonated water. If you have sparkling soda water, or carbonated drink maker then you have an awesome spot remover in your kitchen right now.
If you spill coffee in your carpet I recommend blotting up as much of the coffee as possible with paper towels. Then pour carbonated water over the remaining spot. Let it sit for about 30 seconds and then start to blot it up with more paper towels or a clean white terry towel. If you didn't get it all out rinse and repeat until there is no more coffee transferring to the towel. The last step is to put another towel over it and stand on it for several minutes. This will get some of the carbonated water out of the carpet pad beneath.
If your looking for go to spot remover the best carpet spot remover for consumers is Chem-Dry's World Famous Spot Remover. I use this spot remover everyday in homes across the Tampa FL area. It's a powerful, green certified, spot remover, that's you guessed it, carbonated. It works on all water based spots and doesn't rely on soaps or surfactants to remove soils from your carpet. Because there are no soaps and detergents there is dirt attracting residue on the carpet after cleaning.
I have been using this carpet spot remover before I started cleaning carpets professionally. It's truly the best carpet spot remover for your home.
To get a can of the Chem-Dry's spot remover call Chem-Dry of Tampa.