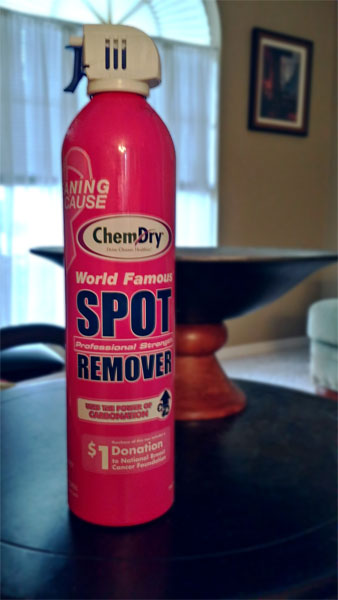 If you are looking for a good carpet cleaning solution I would recommend only one over the counter product, Chem-Dry's World Famous Spot Remover (WFSR). A lot of the carpet cleaning sprays used in the home have a lot of soaps and surfactants in them. They get the spot out alright but they also leave a lot of chemical residues behind. Some of those residues are toxic in large amounts. Other residues attract soil and dirt back to the original spot creating a new stain that needs to be cleaned again and again.
Chem-Dry's WFSR cleans with the power of carbonation. Carbonation is a powerful cleaner that scrubs carpet fibers so you don't have too. There are no toxic chemicals and dirt attracting residues in WFSR, so it wont damage your carpet or put your own safety at risk. As a carpet cleaner in Tampa FL I use this carpet cleaning solution on a daily basis and I have seen it remove all types of carpet spots. I've removed coffee stains, dirt, pet stains, and all types of food stains with The World Famous Spot Remover. It's got professional strength cleaning power without the harsh soaps or dirt attracting residues.
Not only is it powerful it's also green certified. It's completely safe to use and does not harm the environment in any way. There are no chemical smells or fragrances add to WFSR. It comes out clean and dries without changing the texture of your carpet.
If you need a powerful carpet cleaning solution in Tampa FL call Chem-Dry of Tampa.