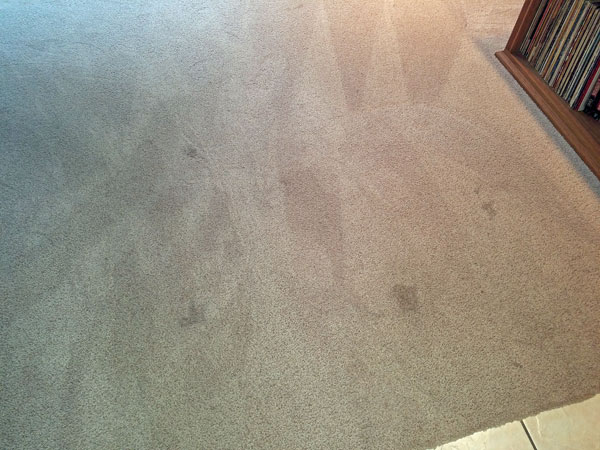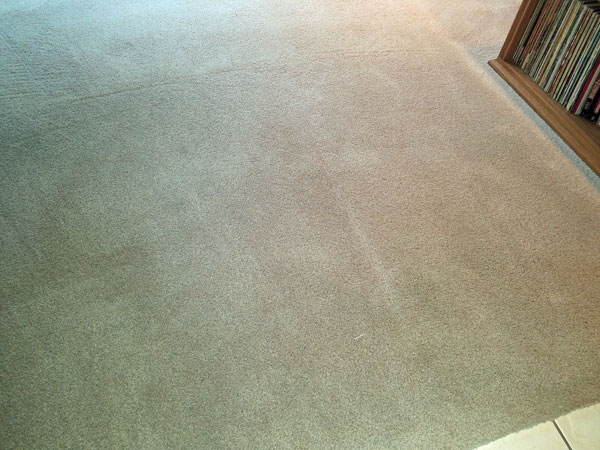 Sometimes carpet spots just seem to come out of nowhere. You walk into a room and there they are. You don't remember spilling anything or running through the mud and tracking it in. So where do they come from? Your carpet can have invisible spots that are just a sticky residue, over time they will start to collect soil. It could take days or weeks for the spot to become plainly visible but eventually enough dirt will be attracted to the spot and turn dark.
The good news is that they are fairly easy to remove with a professional carpet cleaning.The picture on the left shows some mystery spots in the carpet of a Tampa FL residence. The one on the right shows the same area of carpet after Chem-Dry of Tampa cleaned it. Chem-Dry's hot carbonated cleaning process removes sticky residues that are hidden in the carpet, eliminating mystery spots without any problems.
Our carpet cleaning solution has no soaps or surfactants that can leave a dirt attracting residue in your carpet. Only crisp clean bubbles are used to remove dirt and soils in your carpet. No toxins or harsh chemicals are needed to release soil and pull the stickiest soils from your carpet. This means Chem-Dry of Tampa's cleaning solution is green certified and safe for regular use in your home.
You can take advantage of our professional carpet cleaning that removes 98.9% of common household allergens like: pet dander, pollen, and dust mite residue. Chem-Dry of Tampa's carpet cleaning makes your home a healthy home.