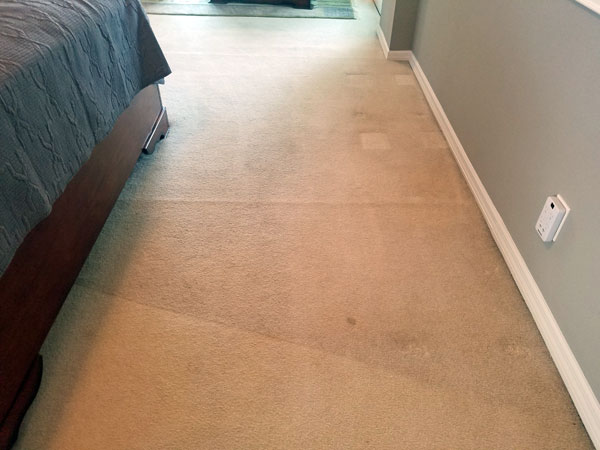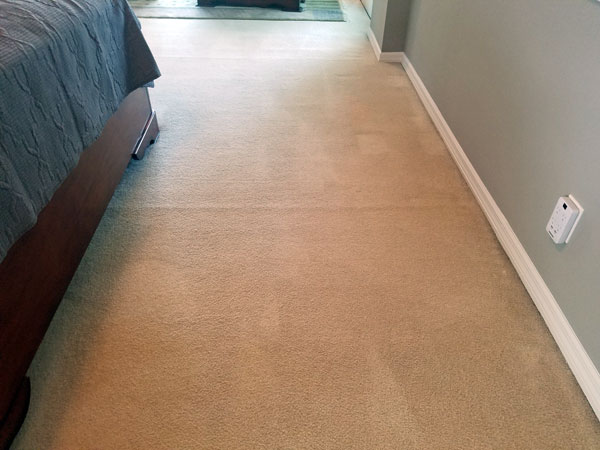 As a carpet cleaner in Tampa FL I see a lot of homes with this particular problem. The diagonal line in the carpet is from and area rug that has been removed and the carpet is now two toned because the carpet that was covered looks brand new and unsoiled. Fortunately the majority of my customers are pretty realistic with their carpet cleaning expectations and understand that not spots and stains can be removed. That being said there aren't a lot of things in the carpet that we consider permanent or forever stained.
In Tampa FL this is more common because of the sand abrasion that wears carpets down and soils the fibers. During this carpet cleaning I was able to remove the two tone diagonal shift in the carpet with a little extra agitation and a heavy pre-spray. In the after photo you can still see a faint line but you really have to know where it's at to find it. My customer couldn't find the line after the carpet cleaning. He was shocked that it was gone. It's not what he had expected.
I can't say that I am always able to remove this type of soiling but I can greatly reduce the difference between worn carpet and carpet that has been covered by an area rug. In the end both the customer and I were satisfied with the outcome of this carpet cleaning. Some jobs are tougher then others but I am seldom disappointed with the outcome.
If you need carpet cleaning in Tampa FL call Chem-Dry of Tampa.