Looking for a carpet cleaner in Tampa FL call Chem-Dry of Tampa. We offer full service carpet and upholstery cleaning in the Hillsborough and Pasco counties. Chem-Dry's Hot carbonated extraction means you don't have to worry about a wet carpet. Our carbonated cleaning solution, The Natural, is so powerful that we use one fifth the amount of cleaning solution as other steam cleaners. This means your carpets dry in just a few hours and in some cases even before our carpet cleaning technicians are finished.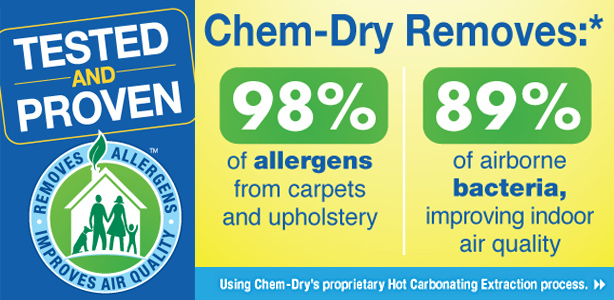 Just because our carpet cleaning service is low moisture doesn't mean that it's not effective. An outside agency tested the effectiveness of the hot carbonated carpet cleaning system and found that it removed 97.4% of common house hold allergens from carpet. That's better than any other carpet cleaning company tested to date. You can read more about our home health study for all the details. If you have never tried Chem-Dry's carpet cleaning service consider getting an in home estimate to see if it might be right for you. Chem-Dry of Tampa FL will come to your home and evaluate your carpet and leave you a no obligation cleaning quote that's good for 60 days. We don't use high pressures sales or clean it now deals. We want you to be comfortable and well informed in your decision making process. We know we have the best carpet cleaning system in the world and we want you to know it.
For carpet cleaning in Tampa FL call Chem-Dry of Tampa.