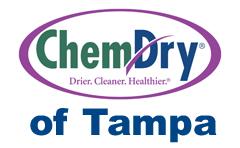 Need a great carpet cleaning in Tampa FL? Want a deep clean that doesn't take days to dry? Don't want to a carpet cleaning that re-soils in a few weeks? Give Chem-Dry of Tampa FL a call. Only Chem-Dry offers hot carbonated extraction to remove deep soil and grime from your carpet. Hot Carbonated extraction uses millions of tiny microscopic bubbles to lift stubborn dirt grime to the surface for easy extraction.
Chem-Dry has the most powerful low moisture carpet cleaning service in the industry. Receiving the carpet and rug institute platinum rating, the highest rating they award. If Chem-Dry of Tampa can't remove the stains in your carpet then no one can.
Hot carbonated extraction is so powerful that we use 1/5 of the cleaning solution that other steam cleaners use to clean your carpet. Less moisture means much faster dry times. Chem-Dry of Tampa's carpet cleaning dries in hours not days. Our system is completely balanced so that your carpet is expertly cleaned while minimizing the negative aspects of steam cleaning. Low moisture carpet cleaning eliminates the risk of mold or bacteria taking root in carpet due to long dry times associated with steam cleaning.
Chem-Dry does not use soaps, surfactants, or other toxic chemicals. Our cleaning solution is so pure its called The Natural. Completely green certified means that you don't have to worry about whats in your carpet. No sticky soaps or dirt attracting residues are left behind, ensuring you get a long lasting clean that leaves your home cleaner, drier, healthier.
For carpet cleaning in Tampa FL Call Chem-Dry of Tampa today.