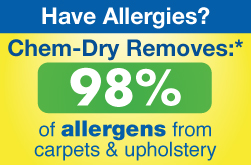 Tampa FL has many many carpet cleaning options. Chem-Dry of Tampa offers an amazingly powerful low moisture carpet cleaning that removes embedded soils and dirt with minimum moisture. Using 80% less moisture then other carpet cleaners means your carpet will dry quickly without any dirt attracting residues being left behind in the carpet.
Our low moisture carpet cleaning is powerful enough to remove 98% of common house hold allergens from your carpet and upholstery. As an adult with asthma I'm breathing easier already. There is one simple way to remove most of the allergens from the soft surfaces in your home. Call Chem-Dry of Tampa FL and have us remove them for you.
Chem-Dry has been cleaning carpets for 40 years consistently improving our solutions and how we clean for the health of your home. Green certified solutions make up the bulk of our cleaning line up. We can provide a safer more effective cleaning that can help you breathe easier.
For carpet cleaning in Tampa FL call Chem-Dry of Tampa.