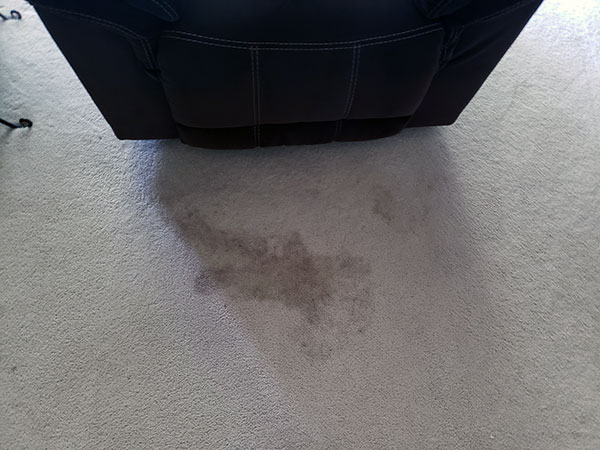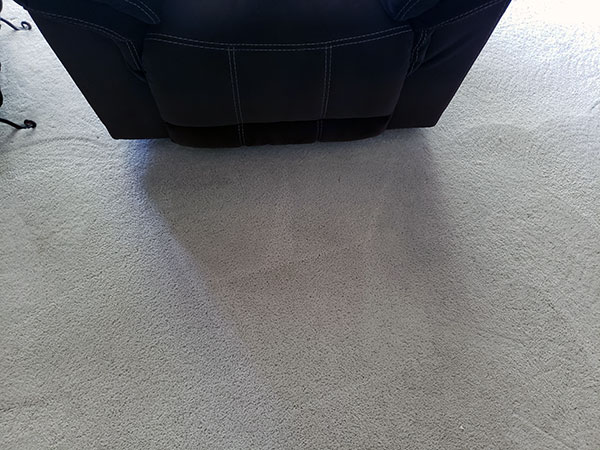 All carpets get spots. Don't feel bad it's just part of carpet ownership. Carpet deep cleaning will get rid of these spots and bring carpet back to life.
These before and after pictures were taken during a recent carpet cleaning in Tampa FL. The mystery spots started out as some kind of spill on the carpet and then a consumer carpet spot remover was used to clean it up. after about a week or two the home owner noticed that the spot was starting to come back so she used the same consumer spot remove to clean the returning carpet spot.
After another week the spot started to re-appear. This time it was darker than before. The home owner couldn't figure out why the spot kept coming back. We have an answer for that. The original spot was caused by some sort of spill onto the carpet. The consumer carpet spot remover took the spot out but the soap in the spot remover stayed in the carpet as a residue. Soap residues hang around in the carpet and collect more soil as people walk over the carpet again and again. Sooner or later a new carpet spot will appear and need to be addressed. Every time it is cleaned the spot remover will leave more residue and collect dirt faster. it's a never ending cycle.
At Chem-dry of Tampa FL we don't leave dirt attracting residues behind with our carpet deep cleaning service. We can remove carpet soap residue and get rid of that returning carpet spot once and for all.
For carpet deep cleaning in Tampa FL call Chem-Dry of Tampa.