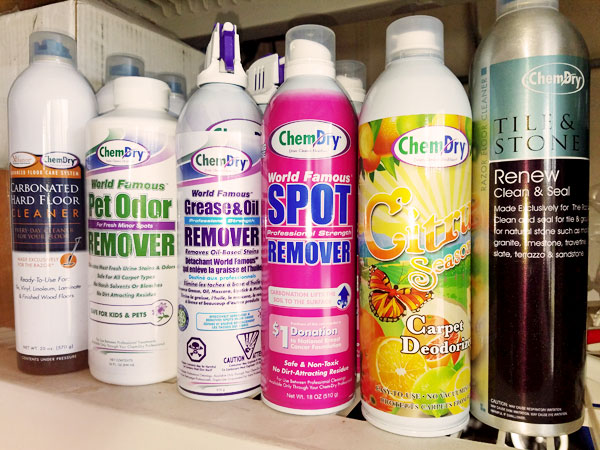 If you're looking for a really good carpet spot remover I recommend Chem-Dry's World Famous line of carpet cleaners. They handle all types of carpet problems from spots to odors, they have the solution for you.
Carpets in Tampa FL take a beating from the big changes in humidity to the fine sand grains that make their way into every home down here. The sand rubs at the carpet fibers scratching the and creating areas where soils can easily get into the grooves of the fibers. Chem-Dry has a carpet spot remover for you, The World Famous Spot Remover. It cleans with the power of carbonation, getting rid of the soils in your carpet without leaving any dirt attracting residue behind.
For oily spots in your carpet Chem-Dry's World Famous Grease and Oil Remover has the power to lift out oily stains that are not water soluble. My son actually poured half bottle of vegetable oil on our carpet a couple of years back. I cleaned it with the World Famous Grease and Oil remover and it came right out. I even used it to clean coconut oil skin lotion off an upholstered chair and it looked like it never happened. You can watch the video of me cleaning the chair on Youtube.
For pet urine in the carpet there is nothing better than Chem-Dry's World Famous Pet odor Remover. I used this product in my Tampa FL home almost daily for 3 months. My 15 year old poodle had started a habit where she would get up in the middle of the night and pee on the carpet outside my bedroom. Every morning I would find the urine spot and pour the World Famous Pet Odor Remover on it. after letting it sit for 24 hours I would dry it our with a towel and low and behold there was no stain or odor from the urine spot. Truly one of Chem-Dry's best products.
For Chem-Dry's carpet spot removers in Tampa FL call Chem-Dry of Tampa.