This video shows how to use my favorite carpet stain removal product, Chem-Dry's World Famous Spot Remover.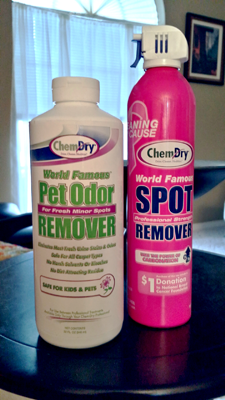 It's one of the carpet cleaning products in the Chem-Dry World Famous line of cleaners. As a professional carpet cleaner in Tampa FL I use the Chem-Dry's World Famous Spot remover on a daily basis. I also use it in my own home with all types of water based spots in the carpet.
As seen in the video The World Famous Spot Remover is a tough carpet stain removal product. With just a few applications it gets out sticky sugary messes without leaving any soapy residues. It works great on water based messes like: soda, milk, coffee, ketchup, pasta sauce, and many many more.
If you have a greasy spot on the carpet you can use Chem-Dry's World Famous Grease and Oil Remover. My 2 year old son grabbed a bottle of vegetable oil from the kitchen and poured it out on our living room carpet. I was able to remove all of the oil out of the carpet with The World Famous Grease and Oil Remover. I was absolutely shocked at how well it removed the oily spot.
I've used these Chem-Dry products on professional carpet cleanings with consistently amazing results. All of the Chem-Dry cleaning products can by found online or you can call your local Chem-Dry and they will sell you Chem-Dry products directly. There is no tougher spot and stain removers then the Chem-Dry carpet stain removal products. I guarantee it.
For professional carpet stain removal in Tampa FL call chem-Dry of Tampa.