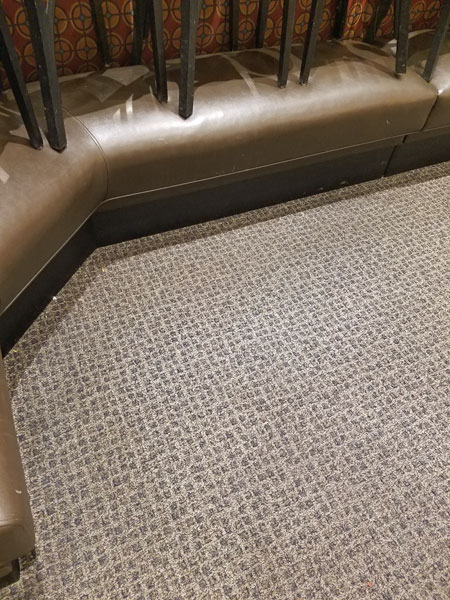 These before and after photos are of a carpet stain removal of a restaurant in Tampa FL. While cleaning the restaurant we pulled the table back from the booth and you could see all the carpet stains on the floor. Under tables is always the dirtiest part of a restaurant cleaning. The tables are rarely moved and hardly ever vacuumed. Dirt and food spills start to pile up layer upon layer creating some amazing stains.
A really good general carpet cleaning will get out most of the soil and some of the stains but there is always some left behind that require some carpet stain removal. So after a general cleaning we go back and work the individual stains and work them to get them out of the carpet. A lot of the stains in restaurants are the result of greasy food spills. Grease can be difficult to remove because it's not water soluble and does not get rinsed away. A lot of the time we have to use a grease pulling spotter to get the grease out of the carpet.
With a little extra time and the right solutions you can get almost every stain out of the carpet. Chem-Dry of Tampa FL has a great carpet stain removal system that works with the basic elements of the staining agents to remove them and leave nothing behind. A lot of stain removal products leave sticky residues that will recollect soil and can even become a bigger problem than the original stain.
If you need a powerful carpet stain removal in Tampa FL call Chem-Dry of Tampa