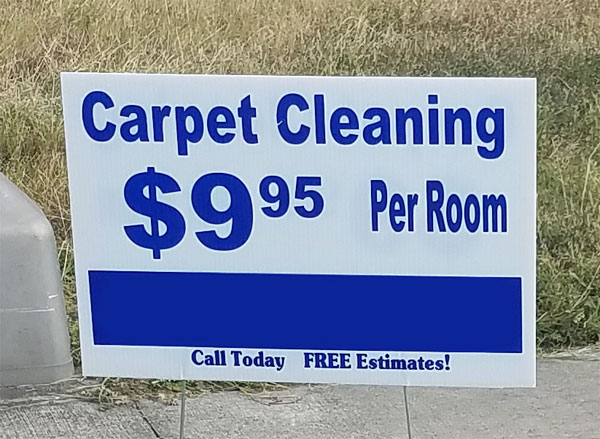 I saw this sign for cheap carpet cleaning services at an intersection while driving through Tampa FL. I thought to myself, that's awfully cheap for carpet cleaning. As professional carpet cleaner for Chem-Dry of Tampa I know what the cost of a quality carpet cleaning should be and this is not it. At $9.95 a room you're going to get a soaker of a carpet cleaning. You can expect for it to take a day or two to dry. How does a carpet cleaning service get their prices this cheap? The simple answer is that they rely heavily on their ability to up sell you more services while in your home. They will tell you that a basic carpet cleaning services does not include a pre-vacuum or pre-spray, both are essential components of a quality carpet cleaning. Once they add on this services the price will be $35.00 to $40.00 a room. Some carpet cleaners will clean your carpet for $9.95 a room but then you can be sure they are using little to no cleaning solutions and just pressure washing your carpet. It will remove some soil and dirt, but the carpet will be soaking wet for about two days, putting your home at risk for mold and bacteria growth.
I understand being budget conscience but if a price sounds to good to be true, it most likely is. When it comes to bait and switch marketing these prices are usually the hook. Once you have made and appointment and set your home up for a carpet cleaning they know that you will most likely pay more so you don't have to go through the bother of finding another cheap carpet cleaning service.
For a quality carpet cleaning in Tampa FL, call Chem-Dry of Tampa.