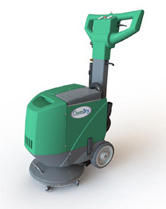 Here is a look at the equipment used by most Chem-Dry carpet cleaning franchises. There is one notable exception in the video the XTS truck mount carpet cleaning unit was not show cased in the video. The XTS unit is used locally in Tampa FL by Chem-Dry of Tampa. We have been using this reliable cleaning unit to service all our residential customers for several years.
The Chem-Dry XTS carpet cleaning system allows for same cleaning power as the CTS 330 featured in the above video. It allows the carpet cleaning technician the versatility of having the vacuum directly at the point of cleaning. That means you get great suction and amazing dry times. This Chem-Dry carpet cleaning unit not only has powerful suction but it also has a blower that forces air down onto the carpet to help it dry out faster. That's a big plus in Tampa FL where the humidity can slow down the drying process.
The great thing about all of Chem-Dry's carpet cleaning equipment is that they all use the same cleaning solution called The Natural. The Natural is a green certified carbonated cleaning solution that stays carbonated even when it's heated to over 200 degrees. The combination of heat and millions of tiny bubbles remove dirt and soil from your carpet without leaving it soaking wet. It's extremely powerful and dries in just a few hours. Did I mention that it's green certified too.
If you're looking for Chem-Dry Carpet Cleaning in Tampa FL call Chem-Dry of Tampa.