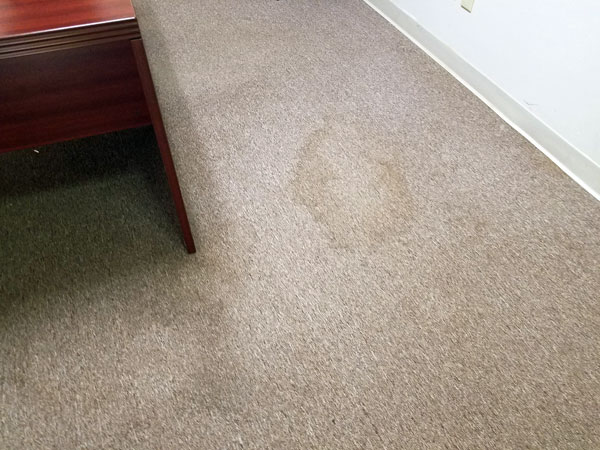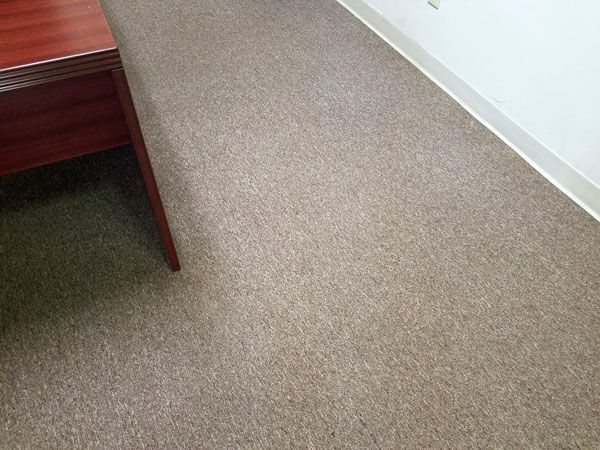 If you have glued down carpet in your office space now is a great time to have it cleaned by Chem-Dry of Tampa FL. Chem-Dry has been a long time leader in the commercial carpet cleaning industry. Facilities managers love our service for its powerful cleaning ability and it's amazing fast dry times. Our commercial carpet cleaning systems are help keep your commercial carpet clean for longer periods of time. With no heavy soaps or dirt attracting residues there is no need to have the carpets cleaned too often.
Looking at the before and after photos above you can see that the water stain from a recent roof leak was easily taken care of with Chem-Dry of Tampa FL's encapsulation cleaning. Encapsulation cleaning, sometimes called encap, has been around for decades and was referred too as carpet shampooing. The idea is the same but the encapsulating solution has been greatly improved. It works by spraying a solution on the carpet that encapsulates the carpet fibers so that dirt and soil are easily removed with a regular vacuum cleaner. It doesn't sound very high tech but results are amazing.
Chem-Dry of Tampa FL also offers a hot carbonated extraction cleaning. The commercial carpet cleaning is a low moisture steam cleaning that removes heavy soils and traffic patterns with a carbonated solution that is heated to 200 degrees. It's powerful deep cleaning action removes the toughest spots without soaking the floor. Hot carbonated extraction is Chem-Dry's most powerful cleaning system and is great for those tough jobs that need a little something extra.
Need commercial carpet cleaning in Tampa FL call Chem-Dry of Tampa.