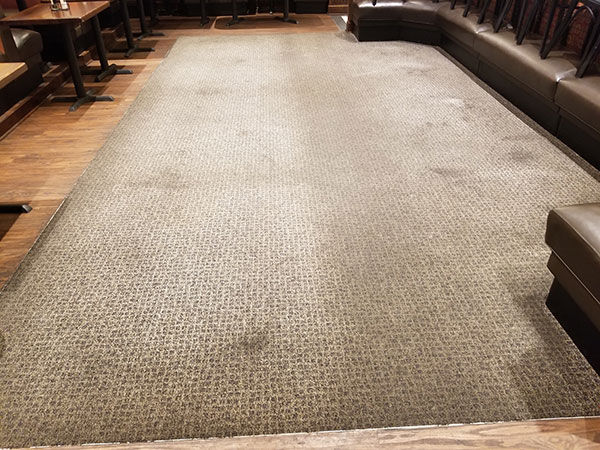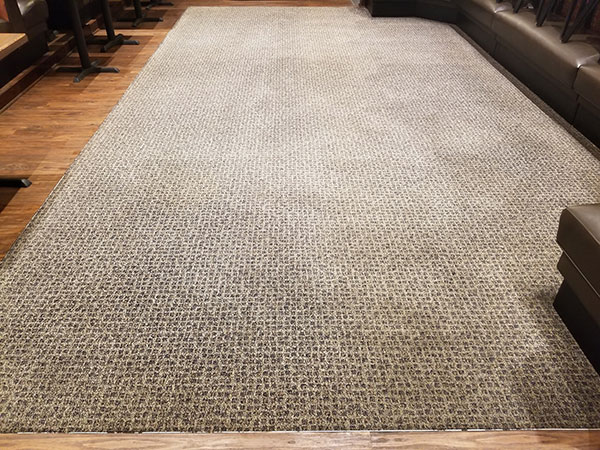 Here are some before and after photos of a recent commercial carpet cleaning for a restaurant in Tampa FL. The carpet is glue down tiles that are cleaned every 3 to 6 months depending on need. Restaurant carpets are difficult to maintain and are need frequent cleanings. With a lot of foot traffic and common food spills it's necessary to stay on top of regular cleaning.
This particular patch of carpet is covered by tables and chairs but you can see a clear traffic lane where most of the customers walk in between the tables and the booth area. It's difficult to keep clean but with some time and some scrubbing Chem-Dry of Tampa FL was able to remove several layers of soil build up on the carpet.
Commercial carpet cleaning is only on of the many services Chem-Dry of Tampa offers. Our cleaning system is perfectly built to handle tough soil build up while not over soaking the carpet. This means that carpets can be cleaned in the evening without the fear of them being wet the next day. Dry carpets means there is no slow down in the daily operations. No matter what business your in.
For commercial carpet cleaning in Tampa FL call Chem-Dry of Tampa.