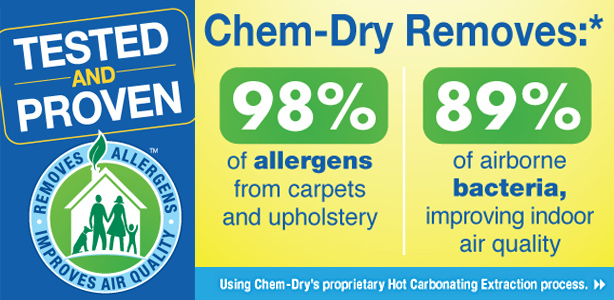 Chem-Dry of Tampa FL offers green carpet cleaning services that out shine your typical carpet cleaning service. Our green certified cleaning solution is comprised of millions of tiny bubbles that scrub the carpet fibers, lifting soils to the surface for easy extraction. Without toxins or harsh chemicals our clean safe and powerful cleaning solution meets all the requirements for green certification.
We wanted to make sure we are offering the best carpet cleaning experience possible so we did away with the negatives and offer a completely green certified line of solutions to keep your home and office safe and clean. With over 50 green certified products Chem-Dry has the most earth friendly professional cleaning solutions on the market.
Why put something in your home that's not safe for your family? We have the green carpet cleaning solutions that make your home sparkle while keeping it toxin free. Do you remember the old saying better living through chemistry. Chem-Dry has kept that saying in mind as we've developed safe solutions through extraordinary combinations of solutions that bring excellent results without harsh chemicals.
In Tampa FL you have limitless choices for carpet cleaning service providers. We want to make your choice easy by making sure we offer great service with a safe and effective choice for cleaning your home. Consider Chem-Dry of Tampa for your next carpet cleaning service.
For green carpet cleaning in Tampa FL call Chem-Dry of Tampa.