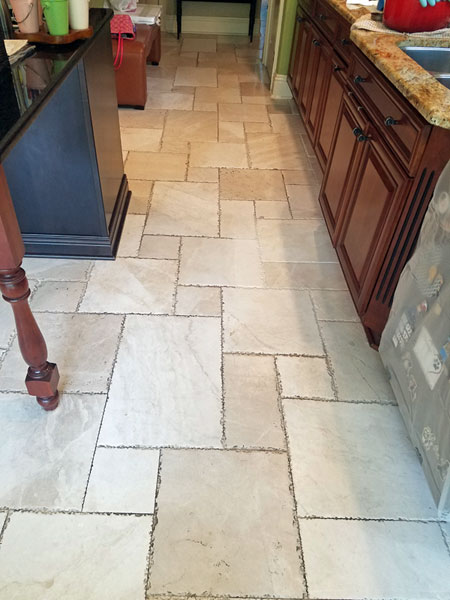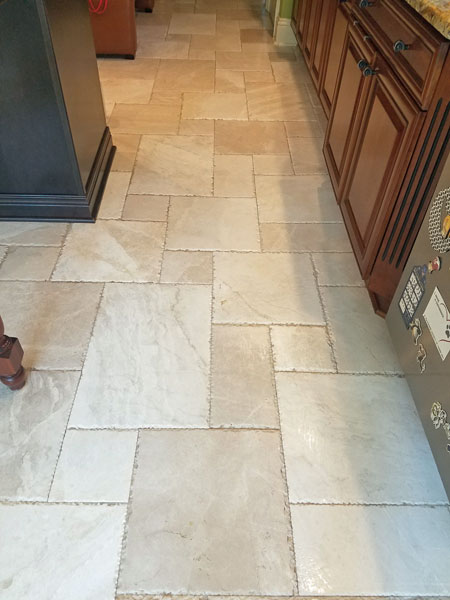 These before and after photos were taken during grout cleaning services at a home in Tampa FL. The home owner had not had it cleaned since she moved in 6 years ago. Even though she regularly cleaned the tile and grout there was still a lot of dirt build up on the grout.
The tile is a tumbled marble which is difficult to clean. All of the chipped edges make it difficult to remove the soil that has found its way into those edges. Marble is not an acid resistant stone and therefore it cannot be cleaned with a low pH cleaner. We had to use a cleaner with a pH of 12 to make sure we could remove the dirt without hurting the stone.
After the cleaning was finished a penetrating sealer was used to ensure the grout stayed clean. A penetrating sealer goes into the grout and dramatically reduces its ability to absorb moisture. This type of sealer does not create a film as a water barrier so it does not alter the appearance of the tile or the grout. It is completely safe to use on natural stone surfaces and will not change the appearance or finish of a stone floor. It's an invisible barrier that does a great job keeping grout clean for up to 3 years, with regular cleaning done at home.
Don't be afraid to have your stone floors cleaned and sealed.
If your looking for grout cleaning services in Tampa FL call Chem-Dry of Tampa.