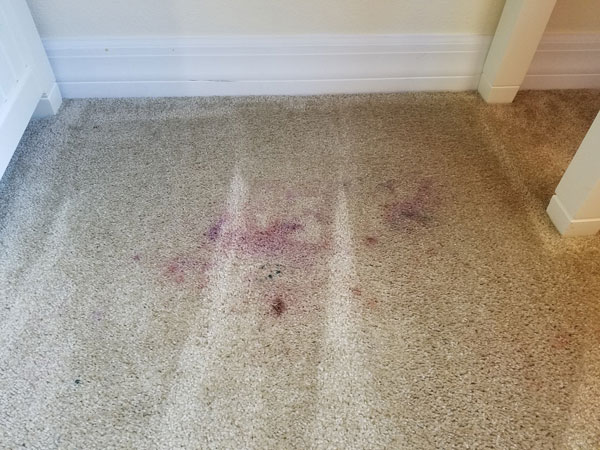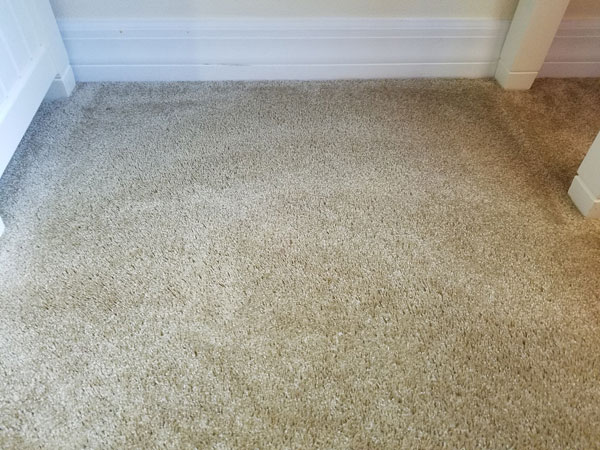 I took these photos of a makeup stain while cleaning carpet at a house in Odessa FL. The home owners daughter had spilled some eye shadow on the carpet and then her task chair ground it into the carpet. Makeup stains in carpet can be difficult to remove but with the right solution you can work wonders.
The first step in the process is to check to see if the makeup, in this case eye shadow, has gotten down to the carpet backing. If the eye shadow is on the backing it is not likely to come out. The makeup was deep but it didn't get into the back of the carpet, so there was a good chance it could be removed. I had a similar makeup stain in Odessa FL the week before and it was in the carpet backing. That stain was removed from the carpet fibers but it still showed a faint shadow of the original stain.
I vacuumed the spots heavily to remove any dry makeup that was still on the surface. After vacuuming I sprayed the spots with a pre-spray that has a slightly higher pH and contained a solvent to remove the oils associated with the eye shadow. I then cleaned the carpet as normal with Chem-Dry's Hot carbonated solution, The Natural. After three passes the makeup came out and the carpet looked as good as new. See the after picture above for the results.
If you have makeup spill on your carpet make sure to vacuum as much up as possible before attempting to wet clean the spots. If you don't have Chem-Dry's World Famous Spot Remover at home. I would recommend cleaning makeup spills with a mixture of 2 cups of water, 2 tspn of vinegar, and 1/4 tspn of dish soap. Apply it to the spots and dab it with a clean white towel. You may need to repeat the steps to get he stain out completely. If you can't remove the stain it may be time to call a professional carpet cleaner.
For carpet stain removal in Odessa FL call Chem-Dry of Tampa.