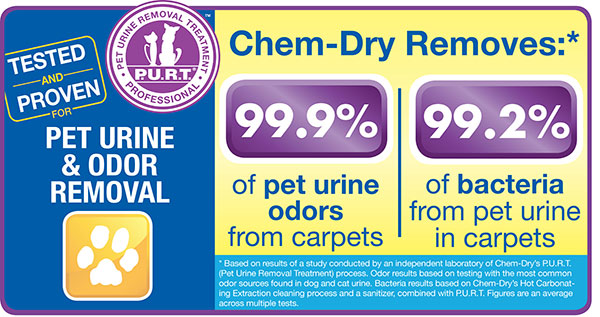 Numbers don't lie and Chem-Dry of Tampa FL has an amazing odor removal service. Removing 99.9% of some of the strongest odors out there, like pet urine. Our odor removal treatment eliminates the toughest odors in your home. If you have odors in your house that never seem to go away give us a call and we will give your home a free odor inspection to determine the best course of action to get your home odor-free.
Whether the odors biological or manufactured we have a solution that destroys odors at the source, eliminating them permanently. Our odor removal solution destroys odors at the molecular level, not just covering bad smells with perfume. It's an odor neutralizer that stops the bad smells period.
Our odor eliminator has even been tested on skunk smells that have permeated soft surfaces, like fabric and carpet. It's a revolution in odor stopping technology. We have the most powerful odor removal technology on the market and we're happy to make it available to you in your own home.