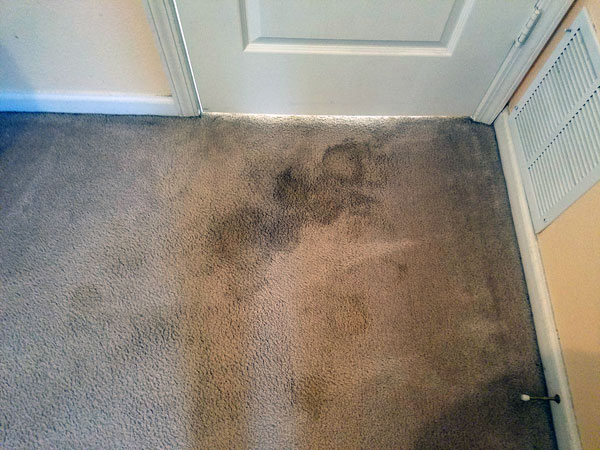 Having Pet Odor issues in your home? Have you been using a pet related spot cleaner for your carpet? Be careful what you use to clean up pet urine deposits in your home. These before and after photos are from a pet odor removal service at a home in Land O Lakes FL. The home owner had recently picked up a stray dog and was trying desperately to get it house broken. She said her and her husband had used several over the counter pet odor removal sprays to clean up the pet accidents.
The problem with most pet odor removal products is that they use a ton of soap to help remove the stain. The soaps help break down the stain to make it easier to remove but then the soaps remain in the carpet and attract dirt and other soils. The cleaning agents in the pet odor sprays can be more difficult to remove then the actual pet odor itself. As you can see from the photos above the spots look pretty even and very dark, almost black. That darkness is the dirt that was attracted to the cleaned pet stain. Every time anyone step on one of those cleaned areas that dirt attracting residue in the pet odor remover would grab soils and start to get darker over time.
If you live in Land O Lakes FL you can get a great pet odor removal product from Chem-Dry of Tampa. We carry Chem-Dry's World Famous Pet Odor Remover. It works by destroying pet odors before they even take hold in your home. You just have to pour it on the pet stain in the carpet and let it do it's job. Give Chem-Dry of Tampa a call and we will deliver to your door for no extra cost.
For pet odor removal in Land O Lakes FL call Chem-Dry of Tampa.