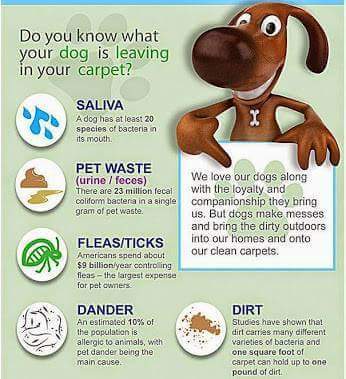 Pets add a lot to our lives and even more to our homes. Not everything they add is positive. Whether it's urine, saliva, or dirt our pets are not big on hygiene. I get calls all the time in Tampa FL about pet smells and how to remove them. There are a lot of great ways to tackle general pet smells in your home. My favorite carpet remedy is baking soda. Sprinkling some baking soda in the carpet helps absorb pet odors before vacuuming.
Some pet smells, like urine, might require a specific pet smell remover. Pet urine requires an enzyme based cleaner to help eat away the urine slats that form after pets urinate on the carpet. Other pet smells can be caused by oils in their fur that transfer to soft surfaces in your home. Those can be more difficult to remove and may require a professional carpet or upholstery cleaner to get rid of them.
One of the biggest pet smell problems I run into in Tampa FL has to do with pet associated bacteria. Your pet has healthy bacteria in their fur, ears , and nose that can cause pet related odors in your home. Keeping them clean and groomed can help eliminate some of these odors, but a good home cleaning might work just as good.