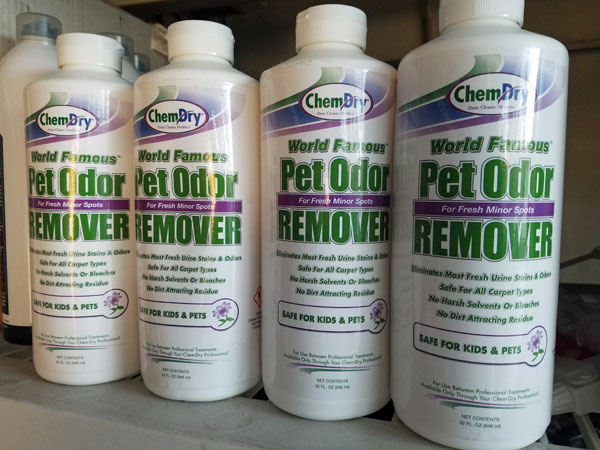 This stuff, Chem-Dry's World Famous Pet Odor Remover, is my go to pet stain remover. If you have a dog that has minor accidents once and a while this product is amazing at removing stains before they happen. Pet stains are just a part of having a pet. I live in Tampa FL and most of my customers are pet owners. They call me when they have a pet urine issue they can't solve on their own. I always recommend this pet stain remover as the solution to their problems. It's extremely effective and so simple to use. You literally pour the solution onto the pet stain and allow it to work over the next 24 hours.
The World Famous Pet Odor Remover is an enzyme treatment the literally eats through tough stains and odors, destroying any unsightly stains and eliminating odors for good. I have been using this pet stain treatment for years and it has worked 100% of the time. After 24 hours there is no evidence that there was ever a problem.
This pet stain remover works great on small intermittent pet stains, but you may need something more. For larger tougher stains It might be time for Chem-Dry of Tampa FL's Pet Urine Removal Treatment. PURT is a solution used to treat deep urine damage in your home. It has an amazing success rate that knocks out odors and solves large scale problems. Call us for a free in-home PURT evaluation and estimate.
For the best pet stain remover in Tampa FL call Chem-Dry of Tampa.