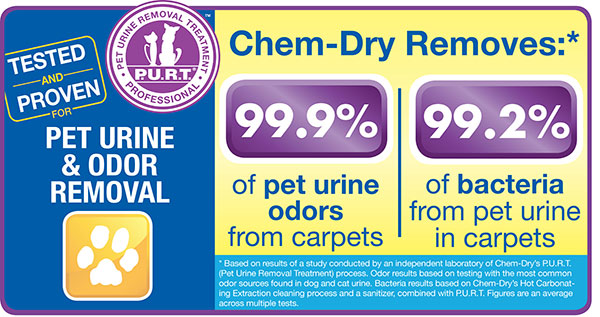 Pet urine is one of the most difficult stains to treat in your home. Whether it's in your carpet, upholstery, or grout it's extremely difficult to remove if you don't know what you're doing. At Chem-Dry of Tampa, we have a very powerful tool to tackle pet urine stains, it's called PURT. PURT, short for Pet Urine Removal Treatment, is a professional strength solution that destroys urine odors and stains in your carpet.
Chem-Dry of Tampa's pet urine cleaning service destroys 99.9% of pet odors by overloading the stain with oxygen. It breaks down the odor and the yellowing created by the proteins and urine salt deposits, making your home look and smell better.
Using a sanitizer Chem-Dry of Tampa FL can also eliminate 99.2% of the bacteria associated with the urine stain. Our sanitizer is safe and non-toxic. It uses the power of thyme oil to kill the majority of bacteria and other hazardous microorganisms that are feeding on the urine stains in your home.
There's no need to live with unsightly urine stains in your home. We can help you breathe easier and improve your quality of life.
For pet urine cleaning in Tampa FL call Chem-Dry of Tampa.