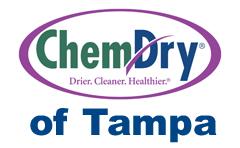 As a professional carpet cleaner in Tampa FL I know how difficult it can be to get a carpet cleaning review. Not because my customers don't like the work I do. I get lots of personal accolades on how clean I can get carpets, but it's difficult to get it in writing. Professional carpet cleaner reviews are like the holy grail of completing any job. You do a great job and people are ecstatic about how fresh and clean their home is then I ask would you be willing to review our service so we can continue to provide a superior cleaning to others? The almost always say yes once they know their last name won't be posted online with it. When it comes to getting them on google, yahoo, or yelp it seems they never quite make it. However, a couple customers have been able to make the hurdle to review us online and here's what they are saying:
"We've used Chem Dry of Tampa twice about a year apart. Both times we've been very pleased. Their great service begins with a person setting up the appointment, confirming a day in advance the time, and again the cleaner phoned that he was 20 minutes away. Our carpets were cleaned with a protection on them and dried within a couple of hours. I questioned why its called Chem Dry, and learned that chem stands for chemistry and the cleaning solution is safe for the environment etc. Once our house is pet free, will get these guys back for a total deep cleaning."
Kristen J. - Yelp.com
"Had the Chem-Dry service a week ago and are very pleased with the results! Spots that had been left after steam cleaning are now gone. We also had some dog urine stains. We found the pet urine removal out of our price range and opted for the healthy family cleaning in that area at the recommendation of our technician Ted. While the stains are slightly visible, it was improved dramatically and the texture has returned to normal. Very happy with the results! Staff was friendly and courteous, and Ted was very knowledgeable as well as prompt and efficient. They didn't tell us, however, that they will not move any furniture. Had I known I would have come out and moved the couch myself. Small complaint compared to the great service and results. Never steam cleaning again!"
Lisa D. – Yelp.com
Thank you to our customers in Tampa FL for such great reviews. We're looking forward to providing you with excellent service again in the future.
If you need a professional carpet cleaner in the Tampa FL area call Chem-Dry of Tampa at (813) 402-8403.