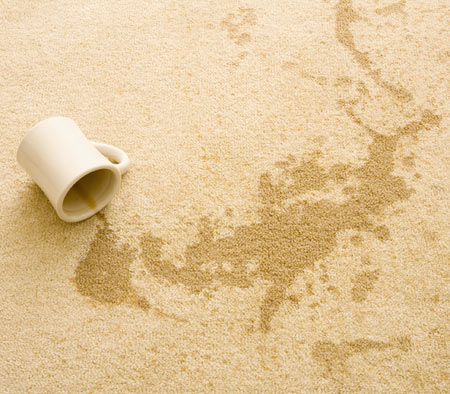 Yes, coffee happens. During a rousing game of fetch, in our Tampa FL home, my wife and dog spilled a large cup of coffee on our three month old light grey carpet. Thank goodness she doesn't drink her coffee black, but it did have a lot of sugar in it. Coffee spots in the carpet loaded with sugar which acts as a sticky residue that will attract dirt when its stepped on. so you need to act fast.
Removing coffee stains from carpet is a quick and easy process. First, using a white terry towel or paper towels blot up as much coffee as possible. Don't press down too hard. The idea is to coax the coffee out of the carpet and in to the cleaning material. Depending on what you have on hand I recommend using carbonated water with about 5-7 drops of dish soap mixed in to clean up the coffee. Don't use a lot of soap it only makes it harder to clean. If you don't have carbonated water you can use plain tap water instead.
Pour the cleaning solution around the outside of the coffee spots and move it in toward the center of the spill. This will keep the spill contained so it wont get larger. Wait about 30 seconds before you start blotting with a clean white towel or paper towels. Again, don't press to hard while blotting the area. You don't want to push the coffee deeper into the carpet. Continue to pour and blot as necessary. If you still see coffee in the carpet after several attempts its time to call a Tampa FL professional carpet cleaner.
For coffee stain removal in Tampa FL call Chem-Dry of Tampa.