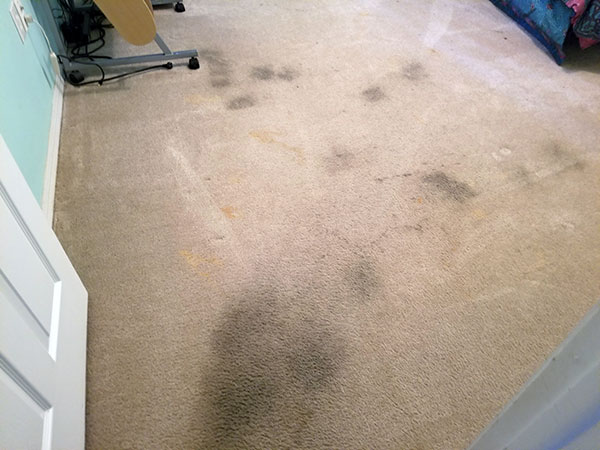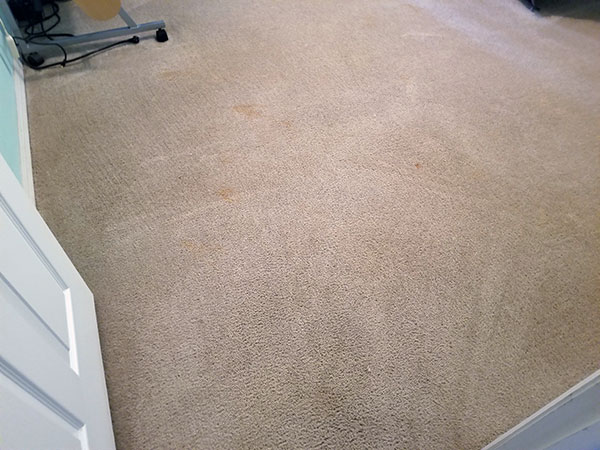 Removing pt stains can be difficult and can cause other problems in the process. These pictures are from a recent carpet cleaning job in Tampa FL where the pet stains were cleaned by the home owner. The dark spots in the photo are the areas of carpet where pet stains had been. They had done a good job of tackling most of the pet stains as they occurred. They cleaned them promptly and removed most of the urine. So why are their dark spots where they previously cleaned?
There are two reasons why dark spots occur after removing pet stains. The most likely culprit is the cleaner that was used was not fully rinsed after cleaning. some of the cleaner was still in the carpet so it hung out there collecting soil from the air and the foot traffic going through the room. Most carpet spot removers rely heavily on sticky soaps and surfactants to remove soil in the carpet and they are difficult to remove. I tell all my Tampa FL customers to rinse the area with water after cleaning carpet spots. That way there are no sticky residues that can attract soil.
The second reason for dark spots after cleaning carpet is that there is still a good amount of urine in the carpet. While cleaning urine spots make sure to clean it multiple times to get all the urine out. Urine crystals have the consistency of wet sand and easily grab grab onto soils like soap residues. Cleaning the area two or three times will help prevent this from happening.