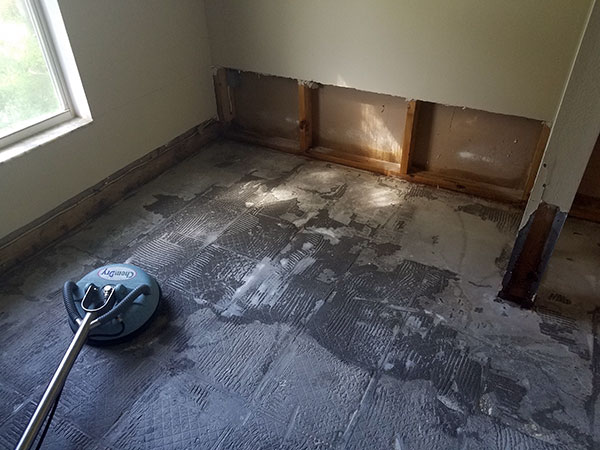 Pet urine can cause major damage to your home. The picture above was taken during a pet urine treatment in Tampa FL while removing pet urine from concrete. You might be surprised by how often pet urine contamination gets to the sub floor in our Florida homes. If your pet pees on your floor they are releasing about two cups of urine that can soak down until it hits a water tight barrier. Concrete sub floors are porous and can absorb plenty of urine. Carpet cleaning and topical urine treatments might not be able to remove the urine complete and a deeper treatment might be required.
Concrete contaminated with urine cannot not just be odor sealed with paints or sealants. I've seen this done several times with poor results. Chem-Dry of Tampa FL was called in after a contractor had sealed this concrete sub floor trapping the urine underneath the sealant. The sealant was remove and the concrete was treated for the pet urine.
Urine needs to be neutralized to get rid of the ammonia odor that off gasses from the urine crystals. It need to be treated in place, sanitized, and cleaned out. Chem-Dry of Tampa has a great system in place to remove pet urine from concrete. It involves all the steps listed above and ends with pressure washing the concrete and vacuuming up the rinse water. No more urine in the concrete and new flooring can be installed.