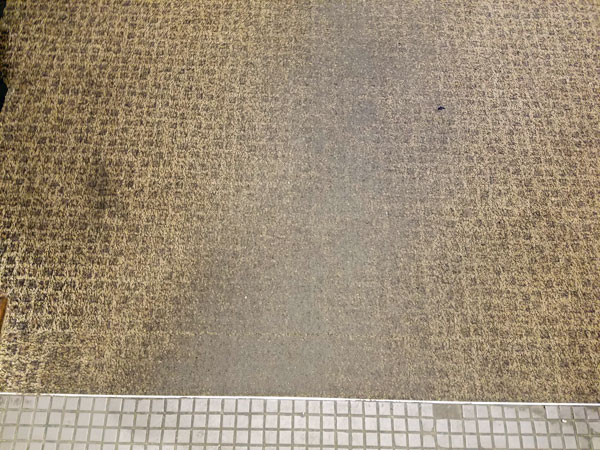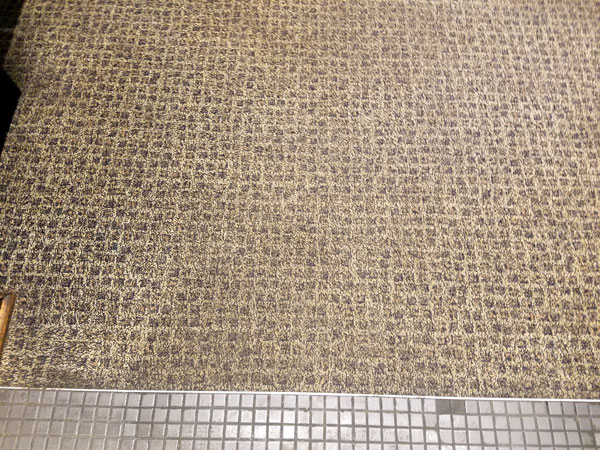 These before and after pictures are of a restaurant carpet cleaning in Tampa FL. They have a small carpeted area surrounded by small mosaic tiles with no walk off mats. There is always a lot of soil build up on carpet when it meets a hard surface like tile or stone. This particular patch of carpet was inline with the kitchen entryway. All the servers go through the entryway, across the tile and directly onto this carpeted area. Over time they had built up a thick layer of soil and kitchen grease that that just kept creeping further and further into the carpeted eating area.
Restaurant carpet cleaning can be extremely difficult because there is such high traffic and not enough time to deep clean the floors on a regular basis. The soil starts to layer up and change the texture of the carpet so it looks fundamentally different. Each one of those layers has to be extracted with several passes and a thorough scrubbing of the effected area.
The good news is that the carpet underneath all that dirt and grease is pretty much unaffected and can be restored. In this restaurant carpet cleaning we vacuumed, pre-sprayed, brushed, then pre-sprayed again, and brushed it one last time. This was all before we did any cleaning extractions. We started cleaning with a floor wand to take off the first couple of layers of soil and grease. Once we got it broken down a little bit we switched to a rotary extractor that makes several passes over the carpet pulling out the rest of the soil.
The end result is a carpet that has been unearthed from some serious soil build up. We now have them on a maintenance program to make sure their carpet stays clean and their restaurant looks its best.
If your looking for restaurant carpet cleaning in Tampa FL, call Chem-Dry of Tampa FL