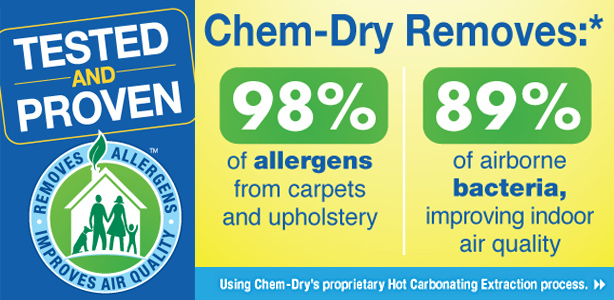 With the CORVID 19 virus starting to make its way toward Tampa FL it's time to consider how to make sure your home is a safe place to quarantine and hunker down until it passes by. Chem-Dry is your healthy home authority. All of our cleaning services can be enhanced by including a hospital-grade sanitizer application to drastically reduce harmful bacteria and viruses. When we apply a sanitizer during your cleaning service we kill 89% of the airborne bacteria on average. This means that not only the surfaces we clean, but also the air you breathe is healthier for your family.
We know how good our cleaning service is because it's been tested by an outside testing laboratory. You can see the results for yourself on our home health web page. Our trained technicians know how to clean your home with a sanitizing agent that is safe for you and your family.
Indoor air quality can be worse than the air outside. At Chem-Dry of Tampa FL, we know how to improve your indoor air quality. Have us apply a sanitizer when we clean your home so you can feel better knowing that you've added an extra step in preparing your house for a possible quarantine. With years of experience cleaning all surfaces with our healthy home package, includes a hospital-grade sanitizer, we have become experts at keeping your home clean.
At Chem-Dry of Tampa, we want everyone to be safe in their own home.
For cleaning services that include a sanitizer call Chem-Dry of Tampa FL