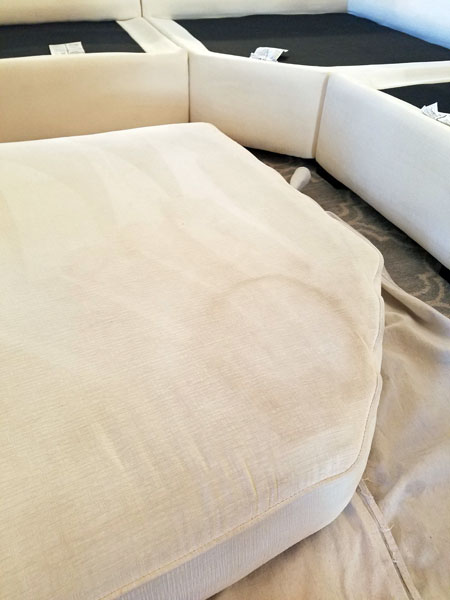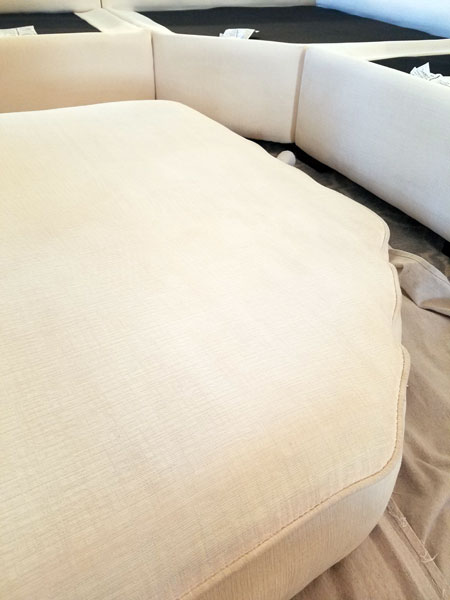 One of the hardest things to clean is a white sofa. Furniture takes a beating on a daily basis and is regular cleaning is often overlooked. Slowly over time soil, primarily skin oils, build up and slowly start to change the color of the sofa to a dingy grey color. Because it happens slowly it doesn't jump out as something that needs immediate attention. In Tampa FL with the humidity and outdoor lifestyle white furniture turns grey faster than normal.
The good news is that Chem-Dry of Tampa FL has a extremely effective sofa cleaning service that reverse the effects of soil build up. Even white sofas can be brought back from the brink. Using our hot carbonated solution called, The Natural, we can literally explode the dirt and soil off your upholstered furniture.
These pictures show how even heavily soiled furniture can be cleaned. In the before picture the sofa cushion is grey and has a big watermark where the owner had tried to clean up a previous spill. The after photo shows the same cushion a few shades lighter with no watermark. Fortunately we had cleaned for this customer before and had applied Chem-Dry's stain resister as a part of our sofa cleaning service. The stain resister protected her sofa from any staining or or early wear from the Tampa FL sand.
If your sofa or other upholstered furniture in your home is starting to look a little worn or a shade or two darker consider getting it professionally cleaned. For sofa cleaning services in Tampa FL call Chem-Dry of Tampa.