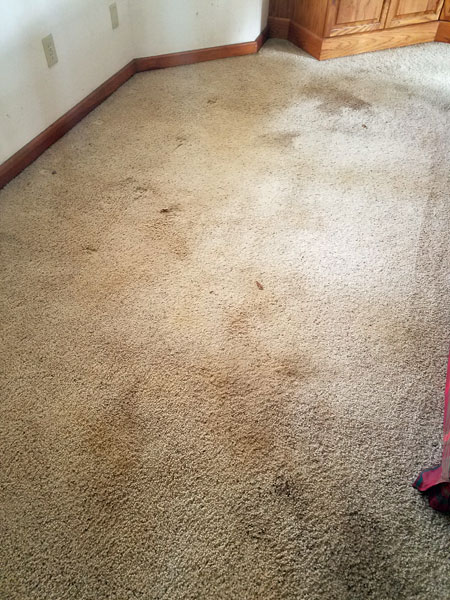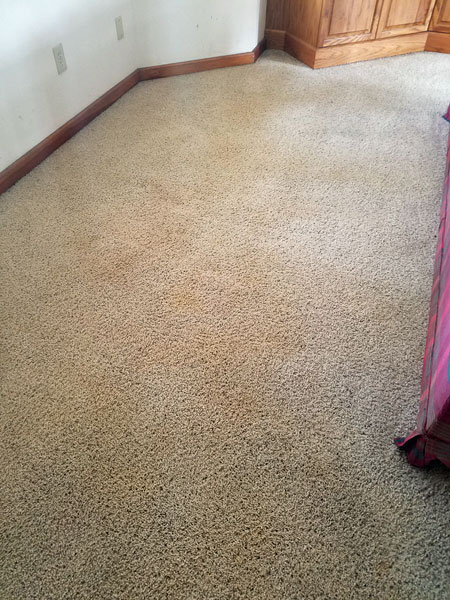 If your in need of carpet stain removal in Tampa FL consider these before and after images of a pet stained carpet. This lightly colored shag carpet has several pet and soil stains throughout the room. Pet stain removal is difficult enough in short fiber carpets. Now, add the fact that this is a thick shag carpet and it becomes a lot more difficult to remove the stains. In the end the carpet did come clean and a lot of pet hair was removed from the carpet as well.
We love our pets and we can handle some of the extra wear and tear that they bring into our homes. Carpets take the brunt of that added foot, or paw, traffic. In Tampa FL the sandy soil erodes the bottom of the carpet fibers, much like sand paper on wood. As the carpet scratched and worn soil embeds in the groves and stain removal becomes more difficult with infrequent cleanings. Shag carpets like the one pictured above should be cleaned at least every 6 months to ensure the fibers don't wear out prematurely.
Frequent vacuuming is the best defense against sand erosion. I thick shag carpet like this one should be vacuumed every other day. Every day if you have pets or children in the home. Not only will vacuuming remove soil and sand it will keep the longer than normal carpet fibers from matting or getting tangled. If you have a shag carpet consider investing in a highly rated vacuum cleaner, like a SEBO or Miele.
For stain removal in Tampa FL call Chem-Dry of Tampa.