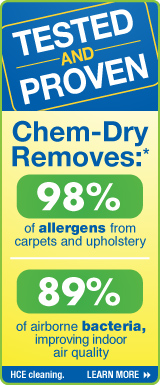 I can appreciate the long term service of Stanley Steemer carpet cleaners in the Tampa FL area but I think it's time to understand a little bit more about the continued evolution of steam carpet cleaning and why they haven't evolved as well. Stanley Steemer carpet cleaners have been around since 1947 and they have continued with the same hot water extraction cleaning system they started with 70 years ago.
There is something to said about consistency but there is always room for improvement. Stanley Steemer still relies on high pressure carpet cleaning that propels water through your carpet and into the carpet pad underneath. No matter how much suction is applied to the carpet afterwards the wet carpet pad cannot be dried. This is one of the fundamental flaws with hot water extraction, or steam cleaning. High pressure and a lot of water means you're going to have wet carpet for a few days. Prolonged wetness means the carpet is going to dry dingy and could have a lingering smell.
Chem-Dry of Tampa FL has a 40 year legacy of carpet cleaning and has continued to improve upon the basic concept of carbonated carpet cleaning. Never satisfied with the current state of the industry leads us to continue to research and develop better solutions and improved equipment. We only clean with low pressure. We want to clean you carpet with out getting the underlying carpet pad wet. With our hot carbonated extraction cleaning system we have improved upon the old steam cleaning system. After our cleaning carpets dry in hours not days. No need to tip toe around the room waiting for clean carpets. Chem-Dry of Tampa has evolved the steam cleaner into a low moisture system that is more effective at cleaning and removes more allergens. Take a look at our carpet cleaning allergen study.
If you were looking for Stanley Steemer in Tampa FL call Chem-Dry of Tampa instead.