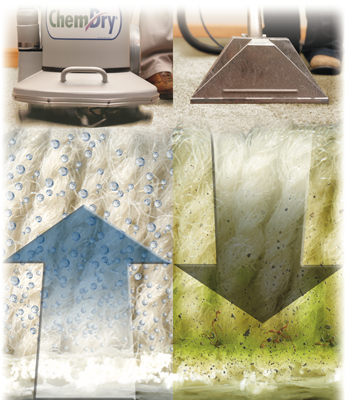 Why steam clean your carpets when you can have Chem-Dry of Tampa FL clean it. What's the difference between steam cleaning and Chem-Dry cleaning? Chem-Dry carpet cleaning uses 80% less moisture than your typical steam cleaning system. That translates into drier carpets that are healthier for you and your family.
Why wait days for your carpet to dry when you can be living your normal daily life in about two hours after cleaning. Your carpets will be clean and dry the same day without that musky smell of wet carpet, or risk of mold growing in the carpet pad below.
So how does Chem-Dry of Tampa FL clean with 80% less moisture then steam cleaning? Instead of using a high pressure cleaning wand to lift soil and debris to the top of your carpet, Chem-Dry's cleaning solution uses carbonation to gently lift the soil to the top of the carpet fibers making it easy to extract both moisture and soil from your carpet. Using carbonation means that your the carpet backing and the pad underneath do not get wet. Only the carpet fibers get wet during the cleaning process insuring an excellent cleaning without all the water.
Steam cleaning is still considered to be a very good carpet cleaning method, but it does use a lot of moisture and can leave behind some residues that can attract soil with daily use. Chem-Dry's low moisture hot carbonated extraction carpet cleaning does not have the same problems and is a better alternative to steam cleaning.