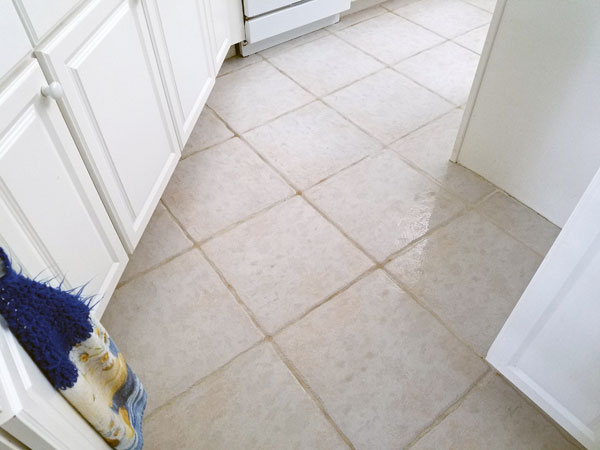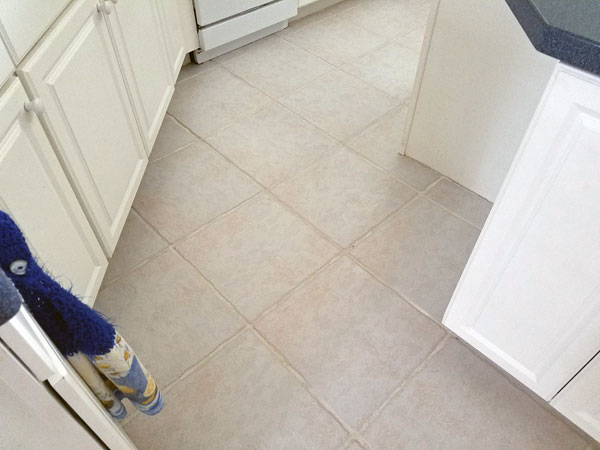 Here is a quick before and after shot of a tile and grout cleaning in Tampa FL. My customer had a light colored tile floor white grout lines that were unusually wide. The home owner said that her husband cleaned the grout himself annually but he was getting too old to be on his hands and knees all day cleaning the floor. I agree it's tough on your body to clean tile and grout. There is no need to get involved in back breaking labor when you can have your tile and grout cleaned by a professional cleaner.
Another cleaning technician and I cleaned and sealed this tile floor in a little over two hours. After drying completely the grout will stay clean for a year. Our grout penetrating sealer means that you don't have to worry about dirt and stains in your grout. If you spill something on your grout it can be wiped up easily with no cleaning solution.
Every day I see more and more tile and grouted floors in Tampa FL. We are going through a hard surface flooring revolution. Every home I visit the owner is talking about how much they want to remove their carpet and put in tile or wood. Tile and grout floors require a lot of regular cleaning. They are beautiful, but they need more maintenance then carpet. I love to clean either type of flooring, so keep Chem-Dry of Tampa in mind for your tile and grout cleaning needs.
In Tampa FL call Chem-Dry of Tampa for tile and grout cleaning.