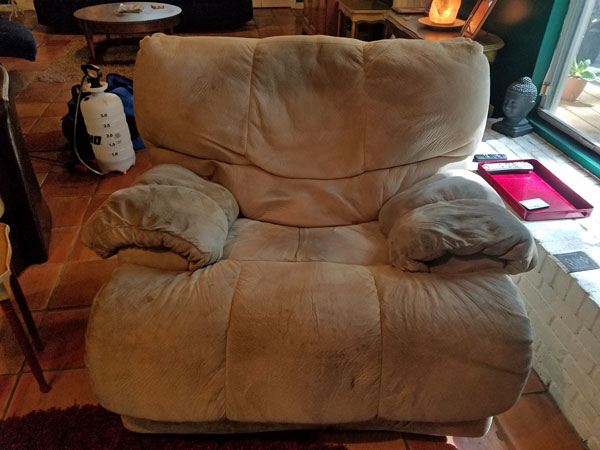 These are before and after pictures of a microfiber upholstery cleaning for a customer in Tampa FL. Microfiber upholstery is one of the best coverings for your furniture if you want ease of maintenance and a long lasting material. Even with over a decade of soil this chair returned to like new condition after a good cleaning.
My customer was shocked to see such a dramatic difference. He said " It looks like a new chair." I told him that this is not an uncommon result for a microfiber chair. Microfiber is a polyester based material and it loves to soak up oils. Over time it attracts skin oils and other soils, especially if its someones favorite chair. He said his grand children come over and it's their favorite place to sit. I didn't sit in it but it does look comfortable.
As you can see from the before picture the head and arm rests are heavily soiled. These are common areas for soil transfer and they require a good amount of scrubbing. With the right pre-sprays and some patience years of soil can be removed. In the After photo those areas have been heavily cleaned and protected from future resoiling.
Chem-Dry makes the best oil pullers, rinsing solutions, and protectants for upholstery cleaning.So, if you have microfiber furniture that is looking pretty beat up consider Chem-Dry's upholstery cleaning services. We have the experience along with amazing cleaning solutions to restore upholstery to "Like new condition."
Looking for upholstery cleaning services in Tampa FL call Chem-Dry of Tampa.