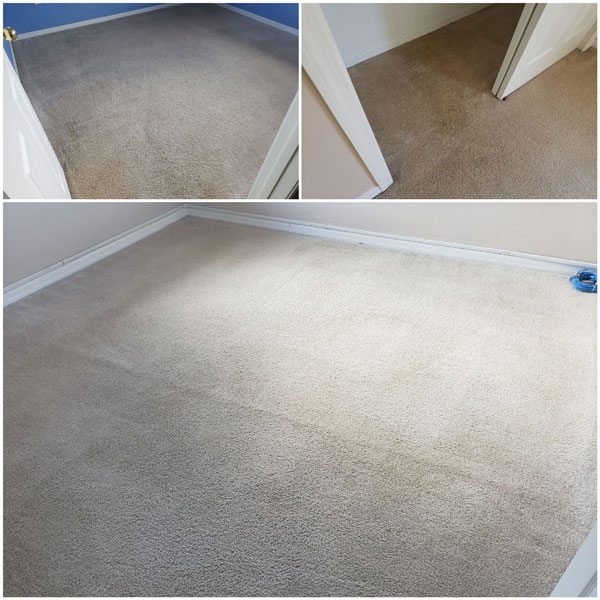 At Chem-Dry of Tampa FL, we do a lot of vacant carpet cleanings for people moving into or out of homes. A number of them are cleaned without any problems. Some have damaged carpet that is heavily stained or has biological contamination. What do we mean by biological contamination? Simply put we mean any carpet that has body fluids spilled on it, blood, urine, feces are all examples of biological contamination.
The photo collage above is of a recent rental property cleaning with a lot of pet urine in the carpet. The renter had tried their best to clean up the urine but several spots were missed, and urine is hard to clean out of soft surfaces like carpet. A carpet cleaning company was hired to take care of the urine stains and odor. They cleaned the carpet but the urine spots were still there.
Chem-Dry of Tampa FL's urine cleaning service removes older stubborn urine stains as well as fresh urine deposits. Our patented pet urine removal treatment tackles not the stain but it also eliminates the ammonia odor associated with urine stains. The pictures in the collage above show areas in the rental unit where urine stains were present. After cleaning they were no longer visible and in 48 hours the urine odor will be gone.
If you have been struggling to remove pet urine stains give Chem-Dry of Tampa FL a call and ask about our urine cleaning service. We guarantee you'll be satisfied with the results.
For urine cleaning services in Tampa FL call Chem-Dry of Tampa.