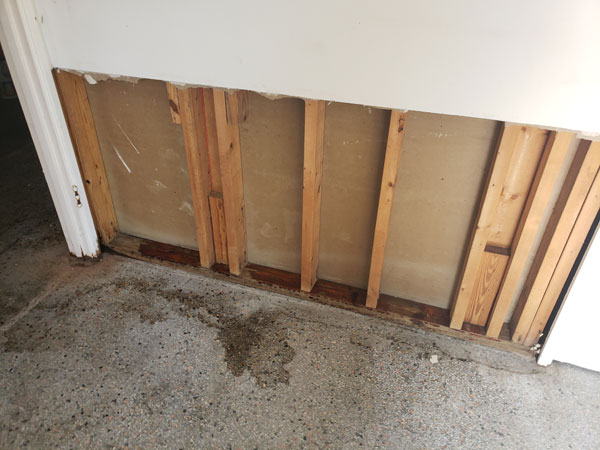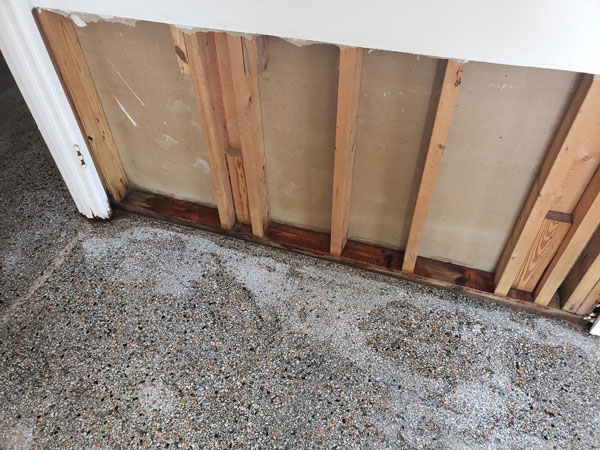 These before and after photos were taken during an Extreme urine removal job in Tampa FL. Chem-Dry of Tampa is a company that specializes in urine removal from most surfaces. Our urine removal specialists are trained to remove unsightly stains and acrid odors from almost any surface. Using proprietary solutions we can safely remove the toughest urine stains without damaging the surfaces, saving homeowners thousands of dollars with minimal turn around time.
On this project, Chem-Dry of Tampa FL was able to neutralize urine odors that had permeated the walls and terrazzo flooring. The damaged drywall was removed and the studs were treated with our pet urine removal treatment. After treatment, the studs and terrazzo floor released the odor and diminished the stains, effectively removing the urine from the treated surfaces.
After 4 days the surfaces will be completely dried out and the wall can be repaired without the worry of phantom odors. Then the terrazzo floor can be buffed and sealed bringing back it's original shine. As a company that specializes in urine removal, we can assess urine damage on your property and give you a direction to go to mitigate your urine issues. We offer free estimates and in most cases can perform our urine removal service on the same day.
For a urine removal specialist in Tampa FL call Chem-Dry of Tampa.